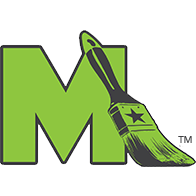 How much does it cost to paint cabinets?
This is a loaded question. So I will break it down as best as I can and remember all cabinet painters are not created equal! And kitchens can vary in size so pricing will be all over the map. But here is the basic cost on an average cabinet repaint by a professional paint company. Let's first start by breaking down the procedure and talk about how long it takes to do each step.
Number and remove cabinet doors and drawers – this is an important step if done wrong its a nightmare to put things back together after painting. To number, unscrew hinges and hardware can take 1 to 2 men 3 to 4 hours to pull apart and organize. Most painters charge anywhere from $50-$60 per hour / per man. For the sake of this blog post well be in the middle at $55 hr x 6 man hours = $330.00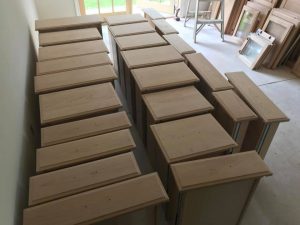 Clean cabinets – Cabinets must be cleaned to remove cooking grease and oils from hands constantly touching them. If not cleaned properly there could be adhesion issues down the road. So spraying Krud Kutter and giving the cabinets a good once over can take 2 men about an hour = $110.00
Masking and covering floors – If spraying your cabinet boxes, doors and drawers in your home, there is a lot of masking involved. To spray your doors we make a spray booth in your garage with zip walls and thin plastic. Then we cover your floors in kitchen, and all the pathways to and from the front door to not track dust. We mask off the inside, outside of cabinets, countertops, microwave, ovens, dishwasher, walls, ceilings pretty much everything we are not spraying. This will take 3 men all day to complete. 24 man hours = $1,320.00
Sand, vacuum and Prime- Next step is to lightly sand every inch of cabinets and vacuum. Once vacuumed we tack cloth, then spray primer. After primer is dry the grain raises and will need to be sanded again and checked for caulking, dings and dents. Another 24 man hours =$1320.00
Spraying cabinets- Cabinets are prepped and primed it's time to spray. The best jobs take two to three coats of finish (especially oak since the grain is so deep). Spraying two coats of paint and sanding between coats will take another 24 man hours = $1,320.00
Putting back together- The things that will add more time to the final day is changing hardware or hinges. This can be a half day project or sometimes a long day if there are a lot of changes being made. Drilling holes for new hardware $250.00 installing new hinges, hanging doors, adjusting doors, touch ups and finally removing masking to reveal the new kitchen will take another 24 man hours. $1,320.00
Materials – Add $50.00 for paper, tape and plastic. Plus $400-$500 for paint and primer. So how much does your average size kitchen cost to repaint by a professional painter? Add it up usually a 5 day process with 3 painters = $6,270.00 add more if you want new hardware and soft close hinges. Most people are shocked when they get the quote but don't understand the amount of labor that goes into a kitchen repaint.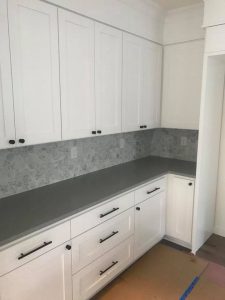 Think you could buy new cabinets for that price? Think again! You may be able to buy "the cabinets for 6-10k but just remember you need someone to rip out the old cabinets, countertops, sink, appliances. Then you will need to install the new cabinets, countertops, sink, appliances, hire a plumber to hook sink back up and hopefully your old floor lines up with the new cabinets otherwise you'll be forkin out $$$ for a new floor or refinish job. And all this will take months compared to a 5 day repaint. Hopefully this was informative. If you or anyone are thinking about repainting your cabinets make sure you call the Pros at Maller Painting Company we would love to guide you through the process.
Maller Painting Company
Owner / Kevin Maller