What are the proper steps to paint an exterior?
January 5, 2019
How much does it cost to paint my exterior?
January 12, 2019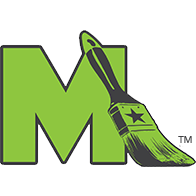 How much does it cost to paint cabinets?
This is a loaded question. So I will break it down as best as I can and remember all cabinet painters are not created equal! And kitchens can vary in size so pricing will be all over the map.
Here is the primary cost of a typical cabinet repainting by a professional paint firm. Let's start by breaking down the process and discussing how long each phase takes.
Remove cabinet doors and drawers and number them – if done incorrectly, this is a nightmare to reassemble after painting. To count, disassemble and sort hinges and hardware might take 1 to 2 men 3 to 4 hours if done manually.
The final cost of a painting job varies depending on the size, complexity, and location of the space to be painted. Painters charge between $50 and $60 per hour per man. Let's assume you pay $55 per hour for each employee, which would work out to $330.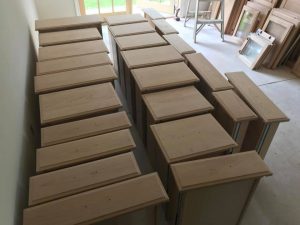 Clean cabinets: Cabinets can be cleaned to remove cooking fat and oils from hands that constantly touch them. There might be adhesion difficulties if the floor isn't properly cleaned. It will take around two men about an hour to spray Krud Kutter and give the cabinets a thorough once-over, costing $110.
Masking and covering floors: There is a lot of masking involved when you spray your home's cabinet boxes, doors, and drawers. First, we construct a spray booth in your garage with zip walls and thin plastic to spray your doors. We then cover your kitchen floors and paths to and from the front door so that dust does not track. Spray-coating is a two-step process in which we mask off the inside and outside cabinets, countertops, microwaves, ovens, and dishwashers. It will take three workers the entire day to complete.
Sand, Vacuum, and Prime: After that, apply a coat of clear polyurethane to seal it. If you've noticed streaks or a spotted appearance on your cabinets, it's time to get rid of it. You may also vacuum and sand the cabinets at this time, if necessary. We tack cloth first, then spray primer once it has been vacuumed. When the grain has healed, it rises and must be sanded again to ensure no caulking, dents, or cracks.
Spraying the cabinets: It's time to spray once the cabinets are prepped and primed. The ideal positions need two to three finish applications (mainly oak, which has such a thick grain). Spraying two coats of paint and sanding between coats will consume another 24 hours at $1,320.00 for a total of $2,240.
Putting it back together: Changing hardware or hinges may extend the final day by a few hours. It is a quick or lengthy project depending on how many modifications are implemented. Installing new hinges, hanging doors, aligning doors, touch-ups, and removing the masking to reveal the new kitchen will require another 24 hours of labor, costing around. $1,320.00
Materials: Add $50 for paper, tape, and plastic. Paint and primer may cost between $400 and $500.
So how much does your average size kitchen cost to repaint by a professional painter? Add it up usually a 5 day process with 3 painters = $6,270.00 add more if you want new hardware and soft close hinges. Most people are shocked when they get the quote but don't understand the amount of labor that goes into a kitchen repaint.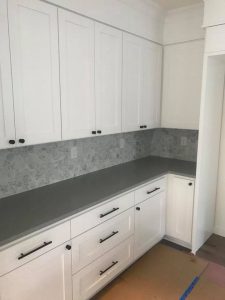 Think you could buy new cabinets for that price? Think again! You may be able to buy "the cabinets for 6-10k but just remember you need someone to rip out the old cabinets, countertops, sink, appliances. Then you will need to install the new cabinets, countertops, sink, appliances, hire a plumber to hook sink back up and hopefully your old floor lines up with the new cabinets otherwise you'll be forkin out $$$ for a new floor or refinish job. And all this will take months compared to a 5 day repaint. Hopefully this was informative. If you or anyone are thinking about repainting your cabinets make sure you call the Pros at Maller Painting Company we would love to guide you through the process.
Maller Painting Company
Owner / Kevin Maller
Kevin began painting houses with his father's company, C&K Painting, in 1996. His father taught him how to use a brush, roller, and caulk and clean a brush properly. He then worked for several other paint companies, where he learned how to spray oils, lacquers, and all water-based finishes. In 2012, after 15 years of experience, he decided to get licensed and start the Maller Painting Company. His team has focused on providing the best re-painting services to our residential clients in the Beaverton area.