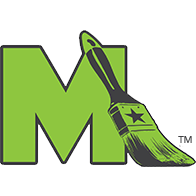 Complete Kitchen Remodel vs. Cabinet Repaint.
Let's first discuss a kitchen remodel. There are just some situations where a complete gut is in order. Be honest if your kitchen is falling apart, mold, dry rot, a mice infestation…… you might want to gut that puppy and start over. This would include hiring a general contractor to first give you an estimate to perform the work. The contractor would guide you through the design process and pull the proper permits to perform the work. This would run you anywhere from $50K – $250k depending on size of kitchen and how lavish your tastes are. Process would take 1 month to 1 year…. again depending on size of kitchen, taste and your contractors organization skills. If you have the money and the patience this might be the perfect solution for your dream kitchen.
Now for the less expensive route! If your kitchen has good bones, i'm talking hardwood cabinets, oak, cherry, maple, alder….Usually the cheap stain/ lacquer coat is chipping. (You know that area in front of the sink where you slop water when doing the dishes). Invision those weathered cabinets being painted a crisp white semi-gloss or light grey, or navy blue or espresso bean…. you get the picture. If your cabinets are slightly beat up repainting them is Maller Paintings specialty. To prime and paint your cabinets would run you around $5k-$10k. We charge $120 per lineal foot of cabinet for our premium lifetime warranty cabinet finish. This would include priming and painting in any color and the process usually only takes 5-7 business days to complete.
Some other great upgrades! Countertops would be a nice upgrade $4K- 6K for smooth Quarts. New subway tile backsplash in a brick or chevron pattern for around $1K- $2K installed. But if your on a BUDGET!!! adding new hardware to your cabinets would be my best suggestion. If you don't currently have any hardware this is a huge upgrade adding a fresh new element into your space. Maller Painting will drill all the holes prior to painting and screw in your new hardware after the painting is complete. If you currently have a single hole knob adding a larger two hole handle would add a fresh new look and again we can wood fill the old holes and drill for new handles before paint. Lastly maybe you have older exposed hinges. By taking your doors to a cabinet shop we can drill out the back of the doors preparing them for hidden soft close hinges. Replacing your hinges and adding new cabinet door knobs you can expect to pay around $15-$25 extra per door on hardware plus labor cost. These small details are what make the kitchen pop! If your interested in repainting your kitchen cabinets or adding new hardware make sure you call the pros at Maller Painting Company and we can guide you through the process.
Kevin Maller/ Owner
Maller Painting Company