How much does it cost to paint my exterior?
January 12, 2019
How much does it cost to paint my interior
January 18, 2019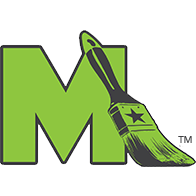 Help i've dripped paint on my carpet while painting!!!
So you received two estimates to paint your interior walls and decided it was out of the budget. The next 24 hours your glued to You Tube watching DIY "how to brush and roll walls" videos and decide to go buy some supplies and tackle this project yourself.
Ok cover carpet, tape off baseboards, pour paint into a bucket and start brushing. As you climb up your 4 ft step ladder you dip your brush. While transfering your brush from your paint bucket to the wall it happens!!! Paint drips off your brush bristles and start heading for the floor. You think to yourself "no problem i covered the floor" but the paint drips in between the two drop cloths and blobs onto the carpet. You think to yourself what luck! So what do you do?!?!
First let me tell you what not to do!
Don't Panic (There's simple steps to clean the paint)
Don't grab a dry towel and try and scrub it out (This will only insure it will never come out….Trust me I know).
OK so heres what you do!
As fast as you can go and retrieve two towels or rags (preferably towels/ rags that you don't care about.
Go fill up a small pitcher or water bottle with water
Return to drip site.
Pour a couple of teaspoons of water on the drip. Just enough to keep the paint and carpet wet. (As long as the paint and carpet remain wet there is a chance, as soon as the paint is dry there's no chance).
I usually wait about 10-20 seconds to let the water saturate then dab with your towel (NOT SCRUB I SAID DAB!). little water, little dab, little water, little dab, ect…
You will either rinse the paint strait through the carpet or pull the paint into the rag. Most likely both. Pretty soon after little dab, little water trick several times you will notice the paint disappearing out of the carpet.
Take the second dry clean towel I told you to grab and dry the spot out. You can either fold up towel and apply it to the spot with your foot. Or you can scrub the spot to try and dry up some of the water.
If you scrubbed the spot and dried the paint out or waited too long to get spot wet you will notice some of the paint dried into the carpet fibers, or was smeared into the carpet fibers with a dry towel! You are going to need some sort of cleaner or solvent to get the paint to dissolve. At this point results can vary and you may ruin your carpet if you use the wrong products on your fancy carpet. I always try and start with the mild stuff first. These are my favorite products for cleaning paint off anything in this order, Warm water and Soap, Krud Kutter, Goof Off, Denatured Alcohol and LAST RESORT lacquer thinner. Just remember to use gloves when using Denatured Alcohol or lacquer thinner.
If you spilled your whole bucket of paint you better plan on getting the area wet to buy time so you can call the 911 carpet guy or just plan on getting new carpet in that area im not going to sugar coat it! Its most likely TOAST!
Thanks for reading! Hopefully this was helpful and just remember the paint will always find the one spot not covered. So make sure your floor is 100% covered or call the professionals at Maller Painting Company.
Kevin Maller
Owner/ Maller Painting Company
Kevin began painting houses with his father's company, C&K Painting, in 1996. His father taught him how to use a brush, roller, and caulk and clean a brush properly. He then worked for several other paint companies, where he learned how to spray oils, lacquers, and all water-based finishes. In 2012, after 15 years of experience, he decided to get licensed and start the Maller Painting Company. His team has focused on providing the best re-painting services to our residential clients in the Beaverton area.