How much does it cost to paint cabinets?
January 11, 2019
How do i clean paint out of my carpet on my DIY project?
January 12, 2019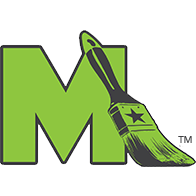 How much does it cost to paint my exterior?
Want to get your exterior painted but don't know how much it will cost? Well I'm going to try and give you an idea of the cost and even some pictures with prices. So let's get started. Remember that there are many variables that can affect the price and for a firm estimate your contractor will have to complete a thorough evaluation of your home on your property.
First thing to take a look at is when was my home built? If your home was built before 1978 there is a good chance that your home was originally painted with lead based paint. This can add a significant amount to the bottom line as the "Licensed Lead Based Paint Renovator" will need to test your home for lead and follow strict guidelines. Maller Painting Company is a lead based paint renovator and will perform a test for $150.00. Lets just pretend your home was built in 1980 or newer then we will want to take a look at the condition of your home.
Does your home have split caulking, faded siding, mildew growing on the northside, dry rot, bubbles everywhere? These are some other factors that can increase the cost of your exterior paint job. A little split caulking, siding fade and mildew on the north side of your home are very common in Oregon. Dry rot is also very common but can be very costly to repair. Bubbles and peeling paint can be a costly endeavor and can be perpetuated with new paint. So make sure you discuss with your paint contractor the system he recommends and if there are any warranty for bubbles popping up after the paint job.
Lastly is your home one story, two story, three story, on a hill, loaded with trim, how many colors, do you want cheap paint, good paint or great paint. All of these are factors that can increase the price of your paint job. So below are some pictures with approximate square footage and approximate price of paint job. And remember these are just base prices if you have any of the above factors this can increase or even decrease the cost some. For a firm estimate make sure you call the pros at Maller Painting Company or click the "FREE ESTIMATE BUTTON" and book an estimate online.
Kevin began painting houses with his father's company, C&K Painting, in 1996. His father taught him how to use a brush, roller, and caulk and clean a brush properly. He then worked for several other paint companies, where he learned how to spray oils, lacquers, and all water-based finishes. In 2012, after 15 years of experience, he decided to get licensed and start the Maller Painting Company. His team has focused on providing the best re-painting services to our residential clients in the Beaverton area.