Breaking down Sherwin Williams exterior paint in Beaverton, OR.
February 26, 2019
Best caulking for my exterior in Beaverton, OR.
March 11, 2019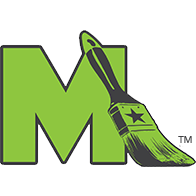 What are VOC's
Your paint contractor has offered you paint with Zero VOCs. So what the heck is a VOC. VOC stands for (Volatile Organic Compounds). When a painter opens a bucket of paint inside your home and rolls paint on your walls. The paint will off gas VOCs until the paint is cured or even longer. Most low VOC paint will only emit VOCs until it's dry. Paints with a higher VOC content can emit VOCs in your home for months or even years. This plays a significant role in the indoor air quality inside your home.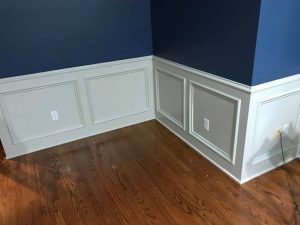 What are the worst offenders for killing your indoor air quality? Carpets are a top offender, many carpets use formaldehyde and can off gas and leave an awful odor in your home for weeks. These not only smell horrible in your home but aren't good to breath without proper ventilation. Plywood, particle board and MDF trim boards- most of these materials use toxic glues or binders to press or mold these materials together not only can they off gas in your home but after installed the dust from cutting these materials can be extremely harmful if inhaled. Lastly Oils, Lacquers and Varnishes are the worst offenders in paint. Many of these paints are banned in Europe, Canada and even California. These solvent based paints are extremely toxic and can off gas in your homes for up to several years.
Why are VOCs used? Well let's break paint down. There are three parts to paint 1. Pigment- this gives the paint its color. 2. Binders-Binders help the pigment adhere to the surface your painting. 3. Solvents- These keep the paint in liquid form and help the paint to be applied easier. These can also help the paint dry faster or even help the paint to dry slower. The solvents account for most of the paints VOCs.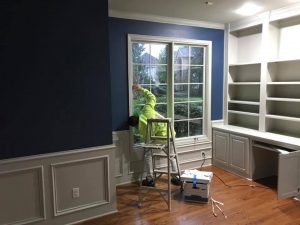 How do you check to see how many VOCs your paint has? You can check on your paint can every paint can has the VOC content labeled on the back of the can measured in grams per litre. (see picture below) obviously zero VOC paints have Zero VOCs. Low VOC paints have 50 grams per litre or less. Lacquers and Oils will sometimes contain 400-500 grams per litre. If you want more information on the paint your contractor is using you can also find a MSDS (material safety data sheet) from the manufacturer of the paint on their website. The MSDS sheet will have lots of useful information on the product including dry times, recoat times, best application techniques, ect.
What are the best Zero VOC products? There are many great Zero VOC products from all the paint stores. Sherwin Williams Top product would be there new Emerald paint, then Harmonyis a great paint at a great price if your on a budget Sherwin Williams caries Promar 200 zero VOC. From Ben Moore The Top product is there Aura another great paint is there Regal but don't overlook there Natura hypoallergenic paint. Great paint for the ultra sensitive person.
If you or anyone you know is looking to paint there interior in Beaverton, OR. or the surrounding areas or just has any questions about painting with Zero VOC paints. Make sure you call the pros at Maller Painting Company.
Kevin Maller
Owner of Maller Painting Company
Kevin began painting houses with his father's company, C&K Painting, in 1996. His father taught him how to use a brush, roller, and caulk and clean a brush properly. He then worked for several other paint companies, where he learned how to spray oils, lacquers, and all water-based finishes. In 2012, after 15 years of experience, he decided to get licensed and start the Maller Painting Company. His team has focused on providing the best re-painting services to our residential clients in the Beaverton area.